When the Babies Came to Stay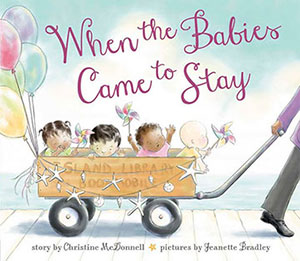 A gentle, humorous story has a significant message of love and acceptance.
The first baby arrived on the mail plane, the second two on the ferry, the fourth asleep on a pile of nets, smelling of mackerel. Who were the babies? Where did they come from? The notes left with them said "Please keep this baby safe" and "Please give my child shelter."
Only the librarian can take them home, and the library is where they grow up. The whole island helps to raise them. The fisherman teaches them to cast from the pier, the ferryman shows them charts of the sea, and from the harbormaster they learn to recognize birds.
"Who are you?" other children ask. "Why don't you look alike?" The librarian gathers them in her arms. "Families don't always look alike," she says. "And where we're going is more important than where we came from."
This charming, lighthearted fairytale contains a message of acceptance that is particularly significant for our time.