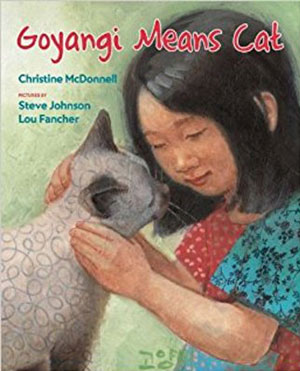 When Soo Min comes from Korea to live with her new American family, she struggles to learn English and adjust to unfamiliar surroundings. She finds great comfort in the family's cat, Goyangi – that is, until he runs away. After searching the streets with her mother, Soo Min discovers her beloved pet has returned to the house, and speaks her first English word – "Goyangi home." This gentle story reveals that home is truly where the heart is.
"This beautifully illustrated, gentle adoption story stands out from most other treatments of the topic by honestly and reassuringly addressing the loss—of a birth family, a birth culture—inherent in adoption as well as the joy a new family experiences.
Here, Soo Min, a young Korean girl, is adopted by an American couple. Everything seems strange and new: She doesn't speak any English; her adoptive parents know little Korean. She finds comfort with Goyangi ('cat'), who doesn't need language to communicate, whose fur she strokes when afraid and who 'licked her hand with his towelly tongue' when she is homesick for Korea.
A sensitive portrayal of international adoption, authentically and realistically done." (Kirkus Reviews, starred review)
"The experience of being adopted by parents who speak another language is vividly portrayed in McDonnell's (Dog Wants to Play) account of the first weeks of a Korean child's life in a new country. Johnson and Fancher (A Boy Named FDR) dwell on the safe, comfortable home that Soo Min's American parents offer her; their collages highlight the colorful textiles that decorate the walls and furniture. Yet this warmth is no consolation for Soo Min, whose new parents know only "a few Korean words." Simple words (family, home, cat, etc.) appear in Korean within the artwork, making patterns that contrast with those in the house, just as Soo Min's language contrasts with theirs. "Goyangi," the word for cat, becomes the Siamese cat's new name; Soo Min lavishes attention on it, and when it disappears, she's inconsolable. "She cried for Goyangi. She cried for Korea. So many tears." But when Goyangi returns, Soo Min speaks her first English sentence—"Goyangi home." By facing head-on the difficulties that can sometimes accompany adoption, the book provides a sensitive depiction of an experience that readers—or their friends—may have gone through themselves. " (Publishers Weekly)